What is a Responsive Website
A responsive website, also referred to as a mobile friendly website if properly designed will adapt to the device it is being viewed from. Whether it is a desktop, laptop, tablet or smart phone, a responsive website should be easily read from any device, and able to adjust in both portrait and landscape mode with a navigation that is easy to use.

All of Simple Website Services Website Designs are Responsive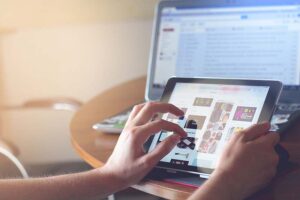 Previously it was common for a website when being viewed on a mobile device was difficult to read and navigate. Hence the change. Today, it is required by most search engines that you have a responsive website otherwise they will recognize that it is not causing the website to lose page ranking when people do a search for your products and services.
The way it works is when someone goes to your website from their device, it will recognize if it a smart phone, tablet, laptop or desktop and will automatically adjust to it. Try it yourself to see what happens.
When a responsive website design is done correctly, it will have many of the same functionality as on a desktop including the ability to do secure online shopping. In today's world a large portion of searches are done from a smart phone so you do not want to miss out potential new and existing customer business.
Mobile websites can also be optimized for the search engines to help increase traffic for your business. If you are considering a new website or redesign your existing one, then please ask us what it will take to also create a responsive website for you.
Mobile Device Usage is on the Rise

When was the last time you used the yellow pages? If you are like most of us, its been a while. It has been found that 97% of the people search the internet to find the products and services they want, and over 70% do it from their mobile devices.
That is why having a smart, eye appealing easy to navigate responsive (mobile) website is key to the success of your online business.